Rooms
The rooms that we have made available to guests are 4. Our policy is to offer the maximum comfort, we have chosen for you only large and comfortable double beds. On request we can add two single beds for a total of ten seats.
The room names are linked to the dynasty of Margarita that have shaped the history of Campli: Farnese.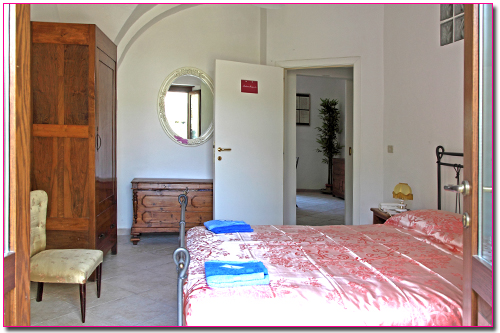 ROOM MADAMA MARGARITA

Refined and spacious suite located on the ground floor with private bathroom, a double is fully furnished with antique cherry-colored furniture give it a cozy, warm romantic atmosphere enhanced by the presence of two antique chests.
It has a comfortable double bed in wrought iron and is a bright, cool room. And faces the '' exclusive '' garden reserved to it and comes with a useful outside sink, through which is accessed via an internal door to the garage, a characteristic that makes it unique and independent from two secondary entrances much to make it like a real apartment.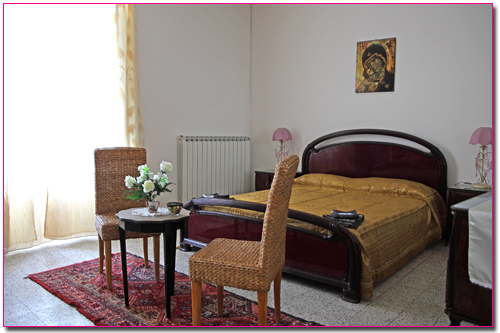 ROOM OTTAVIO FARNESE

A double room from the air "solemn" is located on the top floor of the structure.
It is the most spacious of the structure, the only one that can be transformed into a triple if necessary with the addition of an extra bed.
Furnished with dark brown antique furniture linear and elegant.
It has the appearance of a large living room, cool, well ventilated and bright. It overlooks the beautiful main door through personal balcony which gives it a 'sweet and romantic air .It' a very comfortable room, practical and well-equipped. The large bathroom, equipped with either a shower cabin or a bathtub is shared.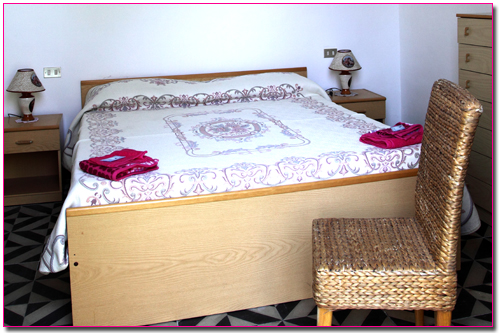 ROOM ALESSANDRO FARNESE

A room well stocked and very comfortable, has a clear and straightforward impact cheerful modern decor.
It equipped with a spacious wardrobe, a practical septet and two mirrors.
It 'a sunny master bedroom, very well ventilated light, and presents the particularity and the convenience of its glass door that leads directly on the large shared terrace and green used as a recreational area for those hot summer nights which in turn overlooks the large garden of the structure itself, offering a beautiful view.
This room where needed and requested, lends his availability also for single use.
The large bathroom is equipped with a shower cabin or a bathtub is shared.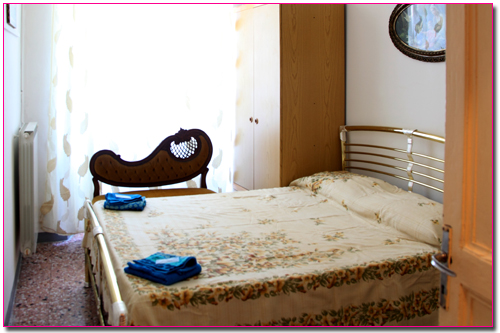 ROOM RANUCCIO I FARNESE

Very bright with a simple and straightforward, detached from the other two upstairs. The smallest of the structure but not the least comfortable. The brass double bed together with bedside table and bench vintage two-colored seats with beautiful romantic tent and wrought iron chandelier with three flames, give it a soft and tender intimate .The large window overlooking the front door main with his eyes on the country's course.
A comfortable double but if necessary a beautiful and comfortable single. The large bathroom, equipped with either a shower cabin or a bathtub is shared.